Financial Modelling Club
| | |
| --- | --- |
| star star star star star_half | 4.9 (12 ratings) |
Instructor: Agrika Khatri
Language: Mixture of Hindi & English
Enrolled Learners: 3564
Validity Period: 365 days
₹4000
75% OFF
₹999 including 18% GST
Financial Modelling Club by Agrika Khatri
Over 1000 Students Are Part Of Financial Modelling Club
These Low Prices Are Valid For Limited Time & The Offer Will Expire Soon!
Businesses around the world are undergoing rapid changes.
The growing dynamics and the uncertain drivers of technology are forcing businesses to act quickly with the ever-evolving and highly uncertain demands of the market and the make-shift entities of competition which are increasingly becoming stronger by the day.
Amidst all the uncertainty, the pressure to perform for any business is higher than ever. We are living in an era that values speed and accuracy more than anything else.
Thanks to the growing uncertainty and immense pressure from all the market forces, there is a surge in new-age opportunities for all the students of Finance (especially students who are pursuing Chartered Accountancy) and students who'd like to make a mark in Big4 and Top Management Consultancies in India and abroad.
What do you mean by Financial Modelling?
Financial modelling is a representation in numbers of some or all aspects of a company's operations.

Financial models are used to estimate the valuation of a business or to compare businesses to their peers in the industry

As a company grows in complexity and adds new products & services in its brand portfolio, a business needs to manage hundreds of functions, departments, and resources to steer in the direction of their projected growth figures.

Financial Models are some of the oldest, highly accurate, and battle-tested templates that are widely recognized in all leading management consultancies particularly in the financial domain which help businesses to synthesize, analyse and churn large bits of complicated data to help companies to carry out large-scale capital budgeting, financial, and investing decisions.
So I Learned Financial Modelling, Now What?
A person equipped with the knowledge of learning how to implement financial models will open doors in obtaining roles in a host of new and exciting opportunities such as Investment Banking, Management Consultancy, Financial Advisor, etc.
Having a firm grasp on Financial Models such as DCF, NPV, LBO, M&A, Relative Valuation, WACC, Project Finance etc will give your employer the required confidence to give you a challenging role in your field of preference and significantly improves your chances of climbing up the corporate ladder in any firm that you join to post your post-graduate or professional degree program.
I am pursuing Chartered Accountancy, does this program make sense for me?
Every year lakhs of students head out to undergo articles - An important training that is mandatory for any aspiring Chartered Accountant to finish in order to execute the completion requirements of CA under the garb of ICAI's frameworks.
A lot of students face a severe disconnect the moment they step foot in a CA firm as they are unable to develop an interest in the traditional subjects of audit and taxation and are more inclined towards securing a job in new-age opportunities in Investment Banking, Modern Finance, and Valuation
If you have the same desire to expand your career trajectory into these new and evolving opportunities, then doing this course will help you to gain a new perspective and take you one step closer to your projected career goals.
All right! Enough Gyaan! What do I get in the Financial Modelling Club?
Financial Modelling Club by Skill91 (an initiative of Edu91 by Neeraj Arora, Pooja Sharma, and Vrinda Chugh) is a course that comes with pre-recorded videos, 24x7 community discussion forum, highly detailed valuation templates, and tons of bonus features in the form of practical case studies which will keep you informed and entertained throughout your journey in this club.
Here's what you can expect by choosing to partner with us by enrolling in this club:
30+ Hours of Video Content on All Topics
Live Doubt Clearing Sessions For Enhanced Understanding
Tests, Quizzes and Highly Detailed & Comprehensively Covered Case Studies.
Master Mind Community Support / Telegram - Ask Anything Related To The Course & Get Your Answers By Course Instructor - Agrika Khatri
24 x 7 Accessibility & Unlimited Views.

Certificate of Completion

(Verify your certificate- https://www.skill91.com/verify-certificate )

Certificate Of Completion - You will have to appear an exam and score 55% in that exam to get the certificate.
Which Topics Will I Learn In This Club?
This financial modelling and valuation course bundle will equip you with comprehensive knowledge in 3 powerful domains:
Accounting & Financial Statement Analysis

Financial Modelling

Valuation
Our endeavour is to provide you with a well-rounded coverage on the following topics in the financial sector:
How to extract financial statements and annual reports from various online sources (in the public domain)?
How to perform competitive financial statement analysis, business and industry analysis to synthesize corporate and business insights?
How to analyse a company's performance by calculating and interpreting liquidity, solvency, profitability and widely-recognized growth ratios?
How to design and forecast a company's profit and loss position, cash flow projects and balance sheet templates
What are the various approaches to stock/business valuation and how to apply them in any business context?
How to structure Discounted Cash Flow (DCF), Relative Valuation (Trading Combinations), Net Asset Value (NAV) models with practical caselets and detailed resources including worksheets, footnotes, and excel files
How to assess whether a project is operationally and financially viable through various capital budgeting techniques and net present value(NPV) models
We will also be taking unique examples from various sectors like Oil & Gas, Banking, Consultancy etc, and encourage you to participate in discussion forums to throw light on your approach to a given set of problems.
It's an interactive community of financial enthusiasts who are ready to tackle the bravest of situations in their upcoming jobs and careers.
Know Your Trainer - Agrika Khatri
Agrika is a Qualified Chartered Account (CA) and B.Com with 5 years of diversified experience in Business Valuation, Due Diligence, Financial Modelling, & Auditing and Assurance
She has consulted and advised several companies in the transaction advisory space from all around the world
Taught 2500+ students on Valuation, Financial Modelling and other Financial Courses in India
You can also follow her on her YouTube Channel for tips, tricks, advice for CA students to excel in the field of corporate finance on "Agrika Khatri"



Still Unsure? Check Out Frequently Asked Questions:
Why should I go for the financial modelling and valuation program?
If you have learnt concepts of accounts or finance or both sometime in your life, you must take one step forward and compress the gap between your existing theoretical knowledge and practical proficiency through this course.
Is financial modelling skill in demand?
Irrespective of your level and academic qualification, financial modelling skills have become one of the most highly sought after for finance and accounts professionals today. Good news for candidates is that there is a short supply and huge demand.
What are the career prospects after learning financial modelling?
There is a wide range of opportunities and roles available after the completion of this course. To name a few - financial analyst, financial manager, business analyst, market research analyst across domains like investment banking, sector research, equity and private equity research, credit analysis, financial planning and analysis and the list goes on.
How do I get support for any queries? How many queries can I ask?
You get access to the financial modelling discussion forum wherein you can connect with your peers and with the mentors. Doubt resolution time is usually less than 24 hours. We are giving you COMPLETE doubt support and you are free to ask your queries an UNLIMITED number of times.
I know very little to basic Excel, can I still enrol for this course?
Within the course, we have stressed enough on Excel finance functions so no need to worry. However, if you find some trouble catching up you can always clear it out on the discussion forum. Our trainers and moderators are there to help you.
Will I get a certificate?
Yes. After completing the course and mandatory test with at least 50% marks, you can apply for the certificate.
Feedbacks from our students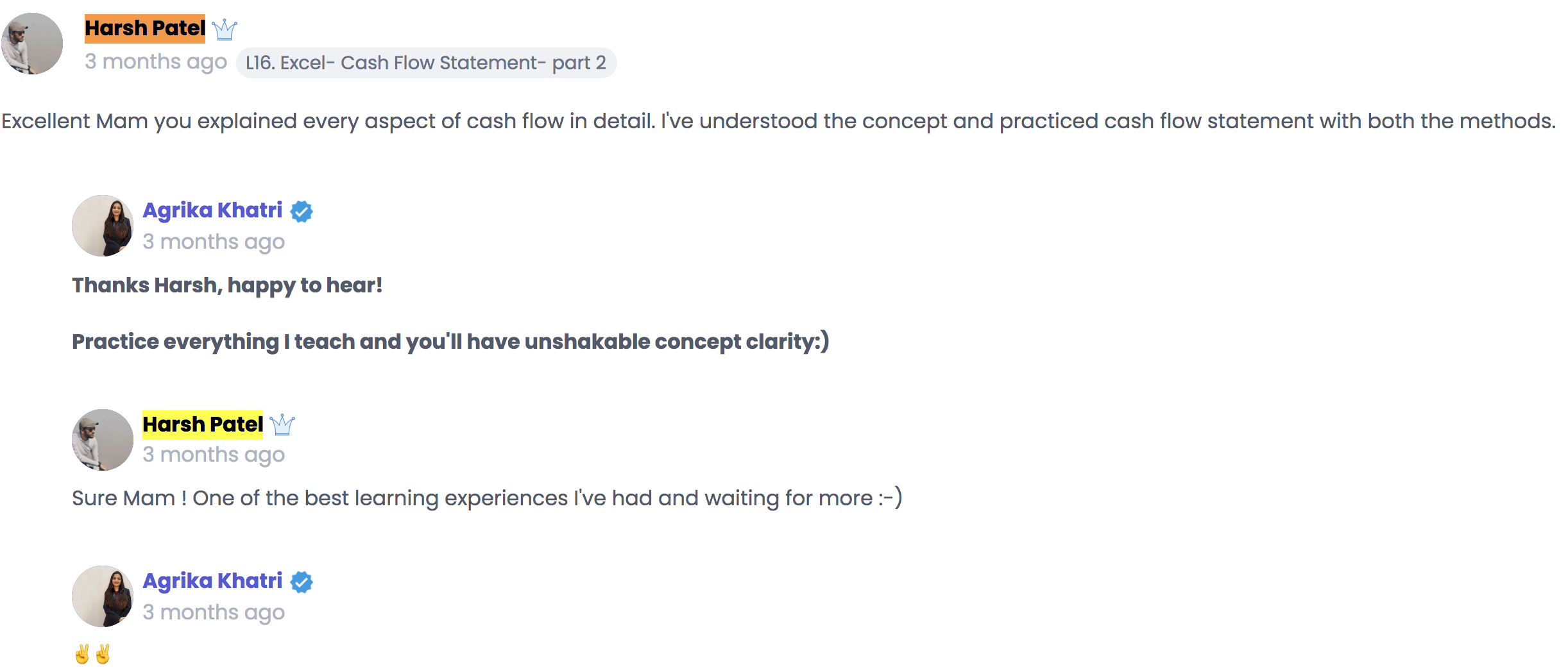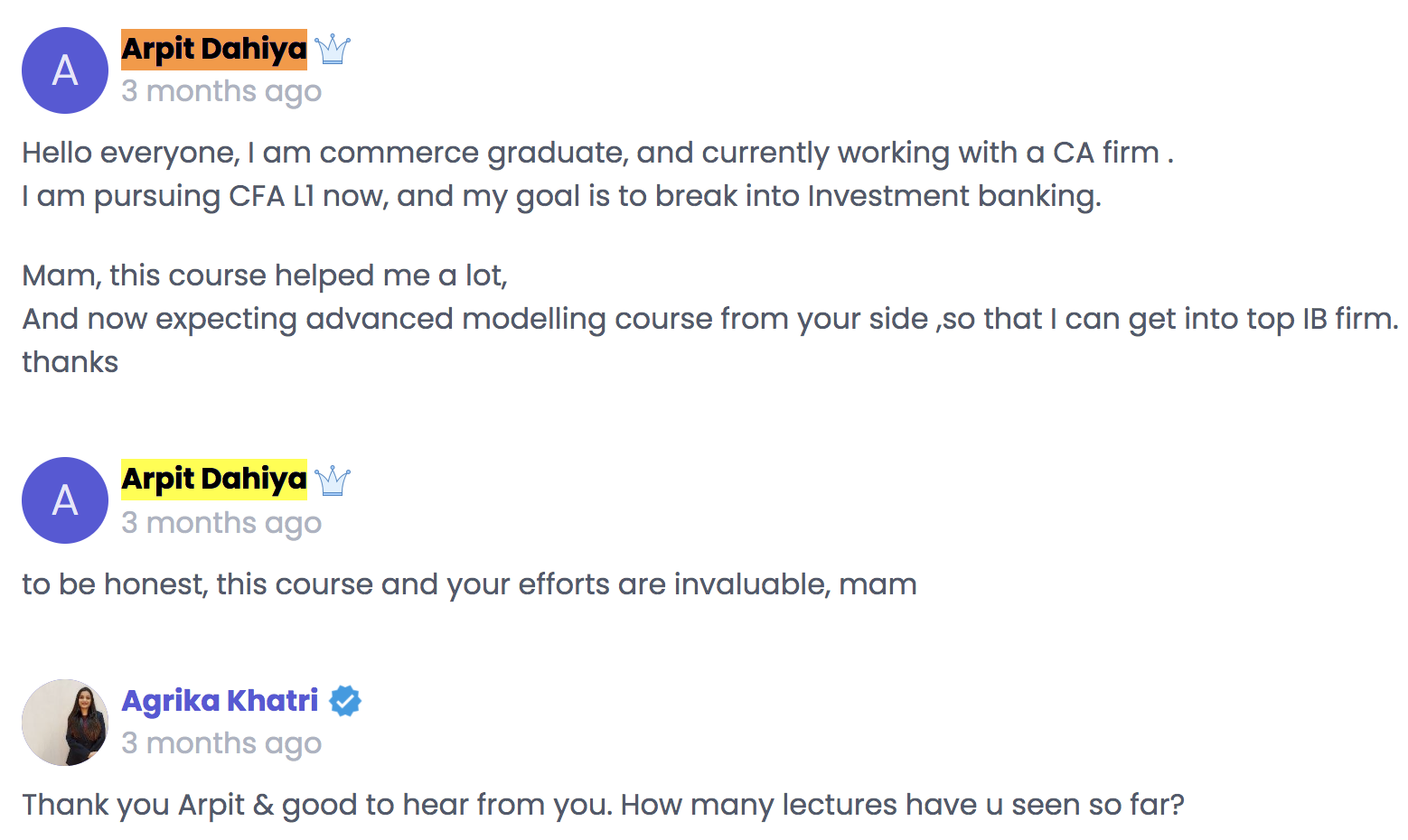 Reviews
4.9
star star star star star_half